Lawn Care + Mowing in Canton Massillon Ohio
When a lawn is professionally cured, the curb appeal is invaluable. It can make any structure look as if it sits inside its own paradise. It's an image sought after by many Americans and the reasoning is obvious. Johnny O's has upheld its reputation for beautiful lawns throughout its 20+ years in operation, and we're just around the corner!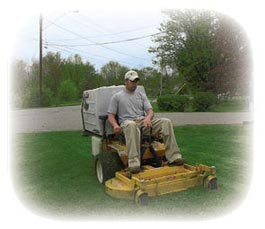 Commercial Mowing
Although currently not as economical for homeowners, our commercial mowing teams have been maintaining some of the most beautiful commercial lawns in the Stark County and surrounding area. We use only the best in equipment, providing you with a perfect professional result. Our line of commercial Toro and Walker mowers, enable us to quickly and properly mow your lawn and save you money on labor.
Aeration
Aeration is the process of pulling small plugs of soil from your lawn. This provides oxygen and nutrients with an easier entry into the root system of your lawn. The nutrients are carried by water which seep down through the holes, in turn preventing thick thatch from forming. Thatch is a layer of earth between the soil and lawn. This layer should be no thicker than one half inch for proper color and drainage.
Over-seeding
Over-seeding is the process of matching your current grass seed, or finding one which is compatible and re-applying it throughout your lawn. In most scenarios, we also apply a thin coat of soil and fertilizer to replenish nutrients and tidy eroded areas. The lawn then needs to be watered frequently until the desired result is complete. A pH adjustment will be made if necessary.