Mulching + Edging in Canton Massillon Ohio
Spring is the time to get your landscape into order for the season. For us, this starts with mulching and edging flower beds all over our service area. This is not only done for the visual effects; it also serves many important purposes. Mulch, when applied at the proper thickness, will do wonders for your vegetation. It retains water and gradually releases nutrients into the soil, suppresses weed growth and erosion, and keeps your soil cool all summer long. All this in turn promotes healthier plant growth.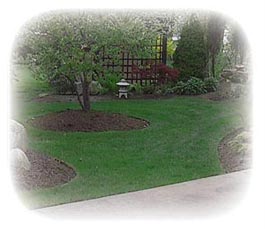 A consistent edge provides a great transition between your lawn and mulch beds. If done properly, it can give your beds a sharp, deep contrast that will attract eyes all year round. Besides its beauty, edges also serve a few functional purposes in your landscape. By cutting down between 4-6" (below the majority of your lawn's root system), you prevent your lawn from spreading to your beds, and mulch from entering your lawn. It also ensures proper routing for excess water, if the bed is mounded properly.