Retaining Walls in Canton Massillon Ohio
Retaining walls not only add depth and dimension to a landscape, but can also serve numerous important purposes. Traditionally, they're used for slope management, but more frequently being used for drainage control and concealment. Within weeks, you could be surrounded by a beautiful stone patio or a layered garden of foliage. No matter how large or complicated you project may be, we will do our best to work with your budget to develop a scenic style you truly desire.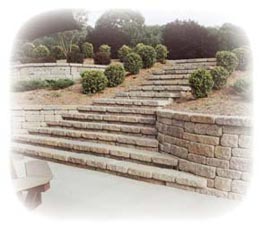 There are many factors that need to be taken into consideration when building a retaining wall. Quality material and professional workmanship, are perhaps the two that play the largest roles in the project. We use only the best of materials from Versa-Lok™ Retaining Wall Systems, which provide durability and a substantial variety. Corresponding to structure colors and tones can make all the difference in the end result.