Water Features in Canton Massillon Ohio
There is nothing more relaxing in a landscape than the sound of running water. It's one of natures most precious gifts, why shouldn't we enjoy it at our home? Whether it be a pond, stream, rock garden or waterfall; your water feature will bring life and activity to your landscape.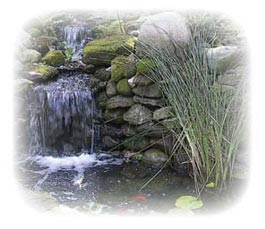 As with most other landscape elements, there are factors to consider before installation. First and foremost, is the placement of the water feature. It should be near, or in view of your outdoor sitting area so that you experience the luxury each and every time you enter the area. You'd be surprised at how many water features we've re-positioned or re-routed because the original contractor's placement was poor or in-significant.
Another factor is the type of rock and gravel used in the construction. All of our rocks are of the highest grade and professionally shaped for a perfect fit without altering their natural look. We have several varieties of rock, shale and gravel that are used in combination to create a realistic and natural feel.
Lighting, is perhaps the most important of the overlooked factors. After all, why should you only get to enjoy your scenery during daylight hours? An illuminated water feature is brilliant at night and is definitely worth every penny.